Horizon Worlds
The metaverse world Horizon Worlds, operated by Facebook and Meta, revolves primarily around playing, hanging out and working together in a 3D world using VR technology.
What exactly Horizon Worlds is and what you can do in this metaverse world, you can find out on this page.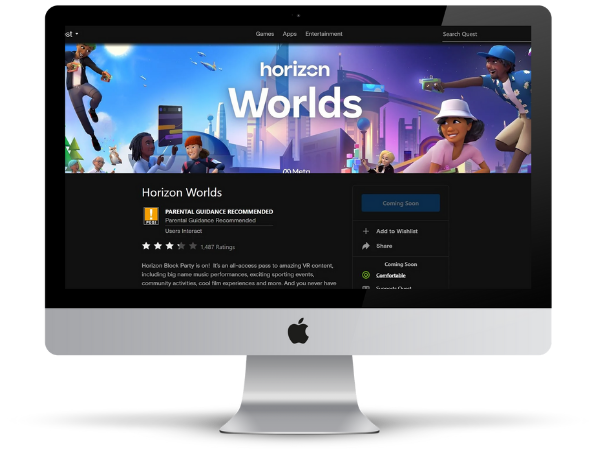 What is Horizon Worlds?
Horizon Worlds is a metaverse world developed and operated by Facebook and Meta, respectively. You immerse yourself in this world using VR technology and move in a 3D world.
Horizon Worlds is specifically designed to play games with other users or spend time together. Virtual reality creates a very special intensity and user experience that clearly differs from classic "multi-user online games" or web conferences.
In the future, it will also be possible to create your own games in Horizon Worlds and play them together or alone.
Currently, access is only accessible via Meta's VR headsets from Oculus . There is currently no web version or generally accessible app.
Play
In the metaverse worlds with a focus on "gaming", you can play games alone or with other users and experience them from a new perspective (usually VR or AR).
Entry
Horizon Worlds is currently only accessible to a limited group of users via Meta's VR headsets from Oculus .
In the near future, the virtual world will also be accessible via smartphones and game consoles.
Insight into Horizon Worlds
What is Horizon Worlds Meta Quest 2
How to control your avatar in Horizon Worlds
Coming soon…